This blog contains sponsored content and the following post may contain affiliate links. As an Amazon Associate I earn from qualifying purchases. Read my full disclosure policy
here
.
If you've ever thought about ordering your groceries online now is the time to jump in. The coronavirus is leaving citizens scrambling to get groceries. Right now, many are standing in a line of a brick and mortar store that's wrapped around the door. To help ease some of the stress and anxiety, I've put together a list of places that will get healthy groceries and ready to cook meals delivered to your door.
*Pay attention due to any potential delays as many companies are experiencing higher volumes than usual (coronavirus). In that case, the sooner you check in to place your order, the better.
This post does not guarantee that these services will be availble during extreme times of emergency. But keep them in mind because having them at your disposal will help.
Schools are being closed. Colleges are reverting to online learning. The NBA just cancelled the rest of the season. Cochella…nope. SXSW not happening. The first set of celebrities have publically announced that they tested postive. Everyone will be financially affected whether directly or indirectly.
What does this mean? A lot. Part of what it means is that you should be prepared to stay inside for awhile. It's not just about quarantines though, even people that may appear healthy will have to restrict time away from home.
One of the things you can do whether you're working from home, schooling from home, under quarantine or just playing it safe is to order your food and supplies online. Thankfully, many companies have online ordering and delivery as an option so you won't be without options if you need to.
So if you want a list of services you can use to safely order your healthy grocery staples and supplies without going to the store, this post is a great place to start.
It can be overwhelming trying to figure out everything when information is flying at you from every corner. But hopefully, where to buy groceries, food and supplies won't be one of the things you'll have to worry about.
Everything
Order anything you would typically order from some of your favorite grocery stores by signing up for Instacart.
Retail partners include Wegmans, Harris Teeter, Giant, Safeway, Target, CVS, Costco and more.
If you've never tried Instacart before, now is a great time to sign up and get some of your groceries delivered.
Even if you don't get everything you want, first you should sign up. You can always fill in the gaps with some of the other resources on this list.
*On the flip side, if you or someone you know are a financial bind right now and could use some income, Instacart is hiring.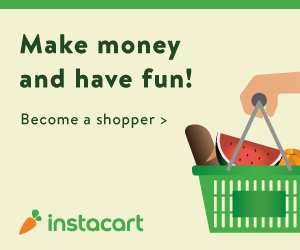 It goes without saying that Amazon is the mecca when it comes to easy shopping online. So much so as a matter of fact, that I've written about Amazon many times.
8 Ways Amazon Helps Me Be a Better Parent
Amazon Prime Why It's Worth the Money
You can use Amazon to order everything from sanitizer, to family board games (to keep everyone entertained at home) to toilet paper. Prime Now is also a great option to order groceries online. Recently, I've had lots of success with late night orders.
Here's a video from my last order. I obviously ordered too many bananas. But don't worry though, it didn't go to waste. No one gets tired of these banana chocolate chip muffins.
Your local grocery stores may also have on option for online delivery, so if you haven't tried it before, now is a good time sign up and try the service.
Organic Chicken, Poultry, Beef & Other Protein
Perdue (Organic Available)
Perdue recently started a program where they're delivering premium quality protein and meats right to your door. As a Perdue influencer, I've raved about their premium cuts of protein time and time again.
Perdue has quality meats are packed solid with care. As a matter of fact, you can watch my Perdue unboxing video here to see what came in by box.
Offer: Try this Perdue bundle and get $119 worth of organic chicken for just $99.99. Also if you use my link, you'll get an extra 15% off of your order.
Tip: Order over $119 to get free shipping. One box pays for itself. Great way to stock up. The bundles offer better prices if you want to try this service.
This is just an introductory price so I know the deal won't last long. Quality premium protein comes from small family farms.
Side note: Perdue is experiencing shipping delays (like most companies in the midst of this pandemic). So plan accordingly. Here's what came in my last order.
Produce
Misfit Market (Organic)
Misfit is a delivery service you can sign up for to get fresh organic fruit and vegetables delivered to your door. The produce is up to 40% off of retail grocery products which makes eating healthy affordable and minimizes food waste.
Offer: Use my discount code: COOKWME-KQ8CUI to get 25 % off your first order. (Offer good for first time customers only)
Try these recipes to use up the produce in your order.
Cleaning Supplies
Groves delivers natural household and personal care products which may be harder to find in other places.
Offer: Get a FREE Meyer's gift set when you sign up.
Nothing beats handwashing. Get non-toxic hand soap to fight germs and pesky viruses before they start.
Offer: Get up to four FREE hand soaps and save up to 56% percent.
Meal Delivery Kits
Meal delivery kits take it a step further than just delivering your groceries. They mail you exactly what you need to get meals on the table that you don't have to plan. All you have to do is cook and sometimes…you don't even have to do that.
How awesome is that?
Meal delivery kits are a dime a dozen. But the great thing is that there's something for everyone from plant-based eaters to those following a carnivore diet, look through these meal kits and find one that works for you
Splendid Spoon delivers smoothies, soups and grain bowls that are all vegan, non-gmo, gluten free and ready to eat.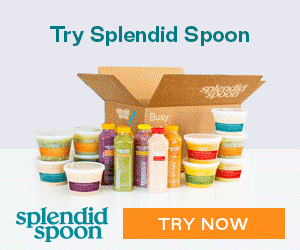 Offer: If you order with Splendid Spoon them you'll get $25 off and a free wellness shot.
Sun Basket (Gluten-free, Paleo, Vegetarian, Diabetes-Friendly, Carb-Conscious, Pescatarian, Mediterranean choices also available)
I really liked their options.
Offer: Right now if you order from Sun Basket you can save $35 dollars on your first order plus score a couple free gifts.
You can try Sun Basket meal delivery kit by clicking here.
Home Chef (classic meals, protein packs, quick meals, calorie-conscious, carb-conscious)
Home Chef is another option for simplifying cooking healthy meals at home.
Offer: Order from Home Chef & Get $25 off the first 4 orders. That's $100 off.
Green Chef (keto, plant-based, paleo, family plans also available)
Offer: Order from Green Chef Get $80 Off Plus Free Shipping
They also have keto, paleo and vegetarian and vegan options too.
Blue Apron (Beyond Meat, Vegetarian, WW, Diabetes-friendly, Health-Conscious options also available)
Can make choices according to number of servings. Also has WW (formerly Weight Watchers.
Offer: Get $20 off of first 5 boxed for a total of $100 off.
Gobble (Lean & Mean plus Fresh Meal Delivery)
Offer: Get 6 meals for just $36. Plus hidden free shipping on first order.
Other Options to Get What You Need
If you need other important items like hand soap, sanitary supplies and more and aren't able to get out, Shipt can help.
Retailers like CVS, HEB and Costco all take a part.
Use Thrive Market for all your organic, paleo non-gmo. raw, vegan, gluten-free and organic needs.
Thrive Market even allows you to search by over 70+ diets and values.
Also check where you usually shop: Giant Eagle stores, Harris Teeter, Publix, Wegman's and more to see if online grocery shopping is available.
We all need grocery shopping options. Whether you're busy, don't like shopping at grocery stores or on a self implemented quarantine, these are some of the ways that you can order healthy groceries online.
Other posts you may find of interest: