This blog contains sponsored content and the following post may contain affiliate links. Samples are sometimes accepted in order to provide valuable content for readers. As an Amazon Associate I earn from qualifying purchases. Read my full disclosure policy
here
.
No matter if you're a new mom, in the season of back to school or have grown kids in college, one thing that most moms can relate to is that they're always busy. To busy to connect, to busy to make self care a priority and you can forget about meal planning. It's just challenging. That's why I'm sharing a tool to make meal planning for busy moms easier.
Even the most meticulous and well intentioned moms can find meal planning overwhelming. If you're one of those moms that has struggled with planning healthy meals for your family, I have an out of the box idea…don't.
Gone are the days anyone has to be stuck with mundane tasks that they just don't want to do. So, if planning your family's healthy meals is not your thing, outsource it. There are several companies that you can use to order healthy meal kits. One such meal kit service is Sunbasket and thankfully they sent me some meal kits so that I could try them out.
Sunbasket is an organic meal kit service that offers 99% USDA organic certified produce, organic meat options and even grass fed and finished beef.
Recently, my friends at Sunbasket sent me some goodies to try and not being stuck figuring out what to cook was a welcome change. Other things that make Sunbasket a worthy option (if you're looking for healthy meal options), is that you can get paleo, gluten free, vegetarian, paleo, Mediterranean, pescatarian, diabetes friendly, carb conscious meals and more.
What I ordered from Sun Basket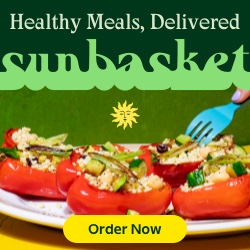 You can order meal kits from Sun Basket but, did you know that you can also get "Fresh and Ready" meals that are simply heat and eat? The difference being that meal kits still need to be put together and cooked. I opted for meal kits and got menu items like:
Coconut Shrimp with Cucumber Salad Paired with Pineapple Ginger Mayo
Prosciutto Squash and Grape Skewers with Quinoa Arugula Salad &
Top sirloins with Roasted Red Pepper Ajvar and Cauliflower
What I Thought About Sun Basket
It's pretty easy to customize your order inside Sun Basket. You can easily select the number of servings required, select menu items according to your dietary preferences and even pick out speedy and pre-prepped meals.
If meal planning is not your thing, you'll be happy that the meal planning is built in and done for you. All you have to do is review the new menu items each week, order and you're set.
Each meal kit also contains exactly what you need to prepare those delicious farm fresh and chef inspired meals at home. All you'll need to have on hand are salt, pepper and oil if needed for the recipe. Even the skewers were included for the prosciutto, squash and grape skewers.
One of my small bags of quinoa for one of my meal kits was missing though. I'm wondering if I inadvertently tossed it while unpacking the order. So just be mindful when putting things away that you don't throw away things you may need away. Since I keep a well stocked pantry, the I had enough quinoa to go off without a hitch.
Also, for many of the meal kits, you can pick any protein you like. The top sirloin was not my fave. But, the shrimp and pancetta were very good.
The Real Problem with Meal Planning
The real problem with meal planning is that it all ends up falling on one person. Typically one person ends up being stuck with all the work due to aptitude, comfort level and other things.
Since the Sun Basket kits include everything you need (ingredients, recipes, instructions), it was super easy to have my husbae jump in to help with dinner while I was wrapping up things with other projects.
Since the instructions were so clear and concise I actually found that my kids were more eager to help around dinner time than usual.
Who knew?

Who is Sun Basket for?
People that are looking for easy and convenient meal planning
New moms
Lifestyles that include: organic, clean and seasonal ingredients
Diets that include: paleo, pescatarian, gluten-free, vegetarian, carb-conscious and Mediterranean meals
If you'd like to try Sunbasket, be sure to start customizing your own meal kits by clicking the link below.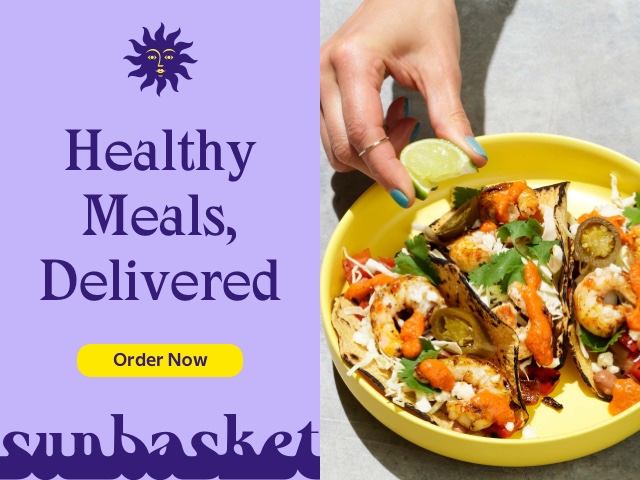 You can pause or cancel your Sun Basket at any time. You need to be locked in. So try outsourcing your meal planning with them and see what you think.
Watch the Video Unboxing of this Organic Meal Kit