This blog contains sponsored content and the following post may contain affiliate links. Samples are sometimes accepted in order to provide valuable content for readers. As an Amazon Associate I earn from qualifying purchases. Read my full disclosure policy
here
.
People are panicked. Grocery store shelves are being emptied of disinfectants, masks, gloves hoping to protect themselves from the Coronavirus (COVID-19).
Conferences that have been planned for months are being cancelled. Vacations are being rescheduled, kids' sporting events are being affected.
I was trying to mind my business but, people are sliding into my DM's and text messages so it's time to talk about it.
Why all the fuss?
It's all due to the coronavirus.
What is the coronavirus exactly?
Corona is an infectious disease, also known as Covid-19 that is causing mass hysteria by all accounts and purposes.
Symptoms of the coronavirus are respiratory in nature. So that means, sneezing, coughing, breathing difficulties and possibly fever.
While the coronavirus is considered a "novel" virus, the situation that we all find ourselves is not new by any means.
But the coronavirus is not new. If we go back a little bit, you may remember similar virus scares like SARS (2004), AVIAN Flu (2008), MERS (2012), ZIKA (2016) and CORONA (2020). EBOLA even popped up a couple of times.
And let's not forget, every year I hear a newscaster say these words, "This is the worst flu season ever!" Sound familiar?
What's the point? I'm sorry to break it to you but, there will always be infectious diseases and infectious disease outbreaks. That's not going to change.
What we can change however is our response and how we prep our body for any infectious disease challenges that may arrive.
Natural immunity not only helps with resistance to disease but, our ability to bounce back if we do get sick.
Spreading misinformation, every article you see about another confirmed case, staying glued to the television, having these notifications "turned on" ALL THE TIME is enough to make anyone crazy.
That includes you.
That's not being informed. That's paranoia. All of a sudden everyone is an expert. Everyone is a doctor. And if they're not a doctor their boyfriend or auntie is what makes them an expert by default.
When it comes to the coronavirus, don't slip into massive "what if's" and irrational fears.
There is hope, and it's in the form of a robust immune system. If you're building your immune system the right way and eating the right foods, there's no reason to be alarmed. You should be aware. But not alarmed!
According to an article in the New England Journal of Medicine, this global outbreak is being compared to the common flu.
The World Health Organization (WHO) Munich Security Conference has been sighted as stating, "We're not just fighting an epidemic; we're fighting an infodemic. Fake news spreads faster and more easily than this virus, and is just as dangerous…"
The WHO also lists special precautions for those people that are concerned and want to help the spread of corona.
Tips like…
Wash your hands thoroughly after using the bathroom
Avoid touching your mouth and face
Using alcohol-based sanitizers when running water is not available
When caring for the sick… wash your hands
After coughing and sneezing…wash your hands
Etc…
Have you seen those tips before? This is basic hygiene. The kind of things we should be doing anyway during a regular flu season or any day of the week as a matter of fact.
If you want to go for extra credit (and you should), and don't want to give the coronavirus a chance, you have to build your immune system too.
Seventy to eighty percent of our immune system is in our gut. The junk that is part of most people's diets and our food supply compromises immunity. This is not the food our ancestors ate. It's far from it.
Surprise. Surprise.
But you don't have to sit idly by and wait for the 8:00pm news to tell you what to do. Actually, they won't tell you how to build your immune system, but I will.
Here are some things you can do to avoid your immune system being taken down by the coronavirus or other respiratory viruses and illness in the first place…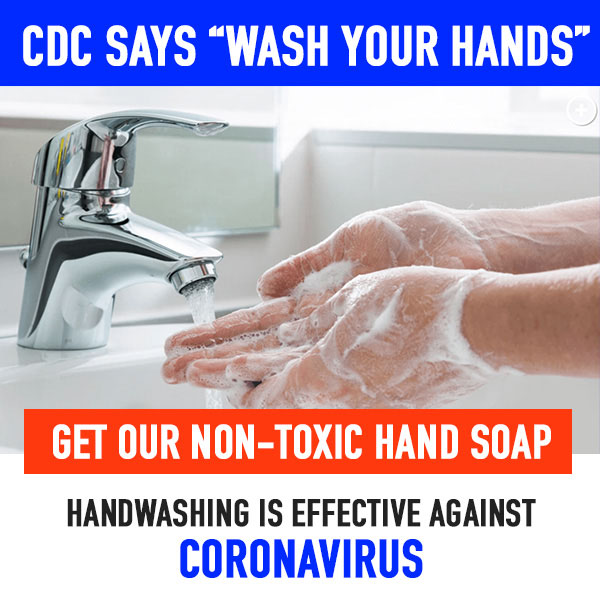 Wash your hands: No splash and dash. A minimal of 20 seconds with soap and water each time. A company in Michigan is giving away free non toxic hand soap to combat the shortage many stores are experiencing and getting hands clean. They are giving away 1000 bottles of free hand soap.
Avoid GMO foods as much as you can: They wreck your gut and your immunity.
Also,
Cook & eat at home: There's no telling who's in the kitchen or who's cooking or serving your food. Try these these immune boosting recipes and foods to avoid getting sick.
Sugar is an antagonist to immunity. All day everyday. No wonder so many people are so sick. Sign up for free sugar summit and find out how to do better when it comes to avoiding sugar.
Instead of stocking up on face masks and antibacterial wipes, stock up on these instead.
Vitamins and Supplements that Boost Immunity Naturally:
It's important to note that there is no official treatment for the coronavirus but as always, "an ounce of prevention is worth a pound of cure".
As reported in the New York Post, Hospitals in China and the US have been using high IV vitamin C with some success.
Patients given his powerful antioxidant tend to do much better. It's never a bad idea to have vitamin C on hand that's for sure.
Stay well friends. Avoid looking at your 401K for now and for the record, the Coronavirus is not related to corona beer.
Tools You Can Use:
The CDC now recommends wearing face coverings to slow the spread of COVID-19.
Get a FREE face mask from an American company to help slow the spread. The masks are lightweight, breathable and water resistant. Unlike homemade cloth masks, you won't have to worry about this mask trapping moisture.
As to be expected, there is high demand on these masks right now. So reserve your masks today.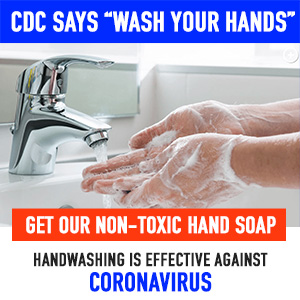 Other posts you may want to read:
Gut Healthy Recipes to Boost Your Immunity