This blog contains sponsored content and the following post may contain affiliate links. Read my full disclosure policy
here
.
People are clamoring to scoop up gifts for the Christmas holidays. It's a task that not everyone can say they enjoy. More than that, once the "perfect" gift is purchased, it still has to be gift wrapped. There is nothing worse than buying a beautiful present and surrounding it in a wad of bulging paper, only to discover that the "wrapping" detracts from the present inside.
So forget about wrapping your presents this year! Here are seven awesome gifts that don't need wrapping.
The following gift suggestions contain affiliate links.  
The Gift of Memories
I absolutely love giving personalized items as gifts. Snapfish has calendars, mugs, photo books, cards and even quilts.
The Gift of Media
I have yet to meet someone that does not like music. If you happen to know someone that doesn't, then fortunately for you, iTunes is more than just music.  It's movies, apps, videos, games and more. So if your loved has an Apple product then this is the way to go.
The Gift of Coffee
Coffee is one of the most consumed beverages in the world and according to USAToday ,83% of Americans help to make it that way. Starbucks, one of the nations largest coffee retailers offer both e-gifts and gift cards.
The Gift of  Food
Companies like Cheryl's have oodles of sweet treats like cookies and cakes to curb one's sweet tooth. There is always a sweet deal going on.
If you are looking for something a bit on the healthier side, I love sending pears from Harry and David during the holidays. Every I time I send them, people are blown away by the taste and quality of the product. Not to mention,
Harry and David
has more than just pears.
The Gift of Pampering
I am always ready for some "good pampering". Massages, facials pedicures…you name it. And because most people don't take the time to put themselves on the list, "the gift of pampering" makes a great present. Just do your research and find out what type of service your "loved-one" likes before you buy. Particularly, if you know someone that is into massages, a gift certificate from Massage Envy is a good idea.
The Gift of Flowers
Flowers are not just for birthdays. A beautiful holiday arrangement can make a great gift. If you are looking for a "wow factor", this is it.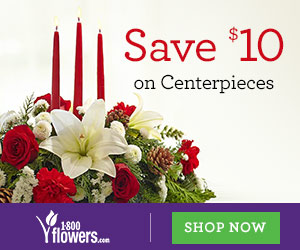 The Gift of Fitness
A gym membership can be a great gift for someone looking to jump start their fitness routine. Just make sure that the person you give this to has expressed an explicit interest in fitness or going to the gym. A well intended gesture can head "south" really fast.
The Gift of Reading
Magazine subscriptions make great gifts because each subscription can be tailored to the particular interests of the individual receiving it. Magazines.com offers consumers lots of choices to choose from. In many cases, a two year subscription is less then $25 dollars.
What is your favorite "unwrapped" gift to give?