This blog contains sponsored content and the following post may contain affiliate links. Samples are sometimes accepted in order to provide valuable content for readers. As an Amazon Associate I earn from qualifying purchases. Read my full disclosure policy
here
.
I know that Christmas hasn't passed yet but, before you know it… you'll be watching the ball drop in the middle of Time Square (hopefully on your warm couch), reflecting on how quickly the year swooped by. Now is the time to jumpstart the New Year with healthy habits that are bound to get your year off to a positive start. But before you start making plans for the New Year, remember that there's no better time than the present. Ultimately, having a desire to start healthy habits in the New Year means that you have to start making those changes today.
Right now.
Wherever you are.
Think about it. You could start today and be well into your new habits way before January 1st. One study suggests that only 8% of people that make New Year's resolutions actually follow through with those goals.
Sucks doesn't it?
Actually, waiting to adopt healthy habits can also lead to lost wages, time, relationships and so much more. So don't wait. Here are some healthy habits to start before the "ball drops" that will start your 2022 off right.
Add Weights to Your Workouts
You already know that you should be exercising right? Well don't skip the weights during your next sweat session. Not only are muscles sleek and oh so sexy but, more muscle means more calorie burning power. After age 30, you're likely to lose between 3 to 5% off muscle mass per year if you're not doing anything about it.
While that may not sound like much, sarcopenia (which is the loss of muscle mass) is associated with loss of strength, decreased life-span and the ability to reduce the ability to perform routine activities.
Eat More Home Cooked Meals
It's a matter of planning, shopping and then executing. Cooking more home-cooked meals means that you can control the ingredients, the calories and spend less money too. Try my home-cooked recipes like sticky strawberry barbecue chicken, orange rosemary sweet potatoes, roasted brussels sprouts and for tasty additions to your dinner menu.
With each meal, be sure to include fresh greens or a healthy salad as well. Services like SunBasket make it really easy to eat more home cooked meals without the fuss.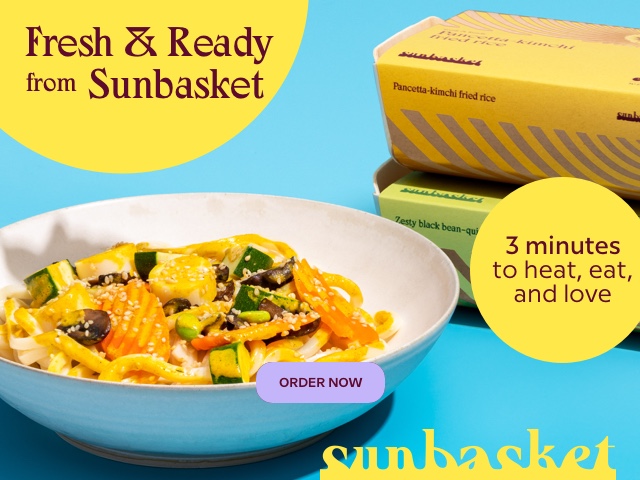 Date Nights
Don't let the words "date night" scare you. Whether you and your "sweet thang" go out during the day or night, the point is that you get quality 1-on-1 time in. By the way, it doesn't matter how long you've been married. Date nights are an excuse to get dressed up.
Say "No" to Negativity
I'm not sure about you but I am absolutely allergic to negativity. ALLERGIC! Now, may be the time to cut ties with that friend that never has anything positive to say or time to ditch the walking group where every morning starts with a gossip fest.
It's just not worth your time, your energy and ultimately your health. And it's just not people and relationships either. A serious negativity detox needs requires you to delve deep. TV shows, new broadcasts, gossip sites, social media and certain types of music and lyrics can be hidden sources of negativity in your life.
If you need help on how to stay positive read: How to Stay Positive When Bad Things Keep Happening
Date Your Kid(s)
Children want to be seen. They want to heard. They want to be loved. They want 1-on-1 time and attention. Time is the thing that most of us want more of. Apparently, our children do too. Ultimately, how you show your love to each child is going to be different based on their personalities and who they are as unique individuals. It may not be every week. It may not even be every month. But every once in a while, take your child out by themselves and just shamelessly love on them.
Just that small gesture will pay huge dividends.
Ditch Sugary Drinks
Limit sodas, juices, that morning frappuccino and even energy drinks because they are loaded with lots of sugar. Don't believe it? A 16oz Cinnamon Roll Frappuccinos from Starbucks has a whopping 85 grams of sugar. That's 4 times over the recommended limit in one drink!
While you're probably not OD'ing on frappuccinos, be aware of added sugar from unwanted sources. Every little bit adds up and can have a huge impact on your health. Diabetes is one consideration but, did you know that sugar is a leading cause of inflammation in the body? Instead of sugar laden drinks, try drinking some unsweetened hot green tea instead.
Green tea is packed with antioxidants and has consistently shown to have a positive impact on health and vitality.
Besides, avoiding hidden sugar in places like that morning cup of java will leave room for a worthy splurge like these chocolate chocolate chip gluten free cookies later.
So what do you think?
Are you ready to start 2022 with a bang?
Remember don't think of it as New Year resolutions it's "New Day" resolutions. Each day is a new opportunity to start over. To learn. To get better and grow. The best time to start those healthy eating habits is now.
12/22/15. Updated 12/20/21